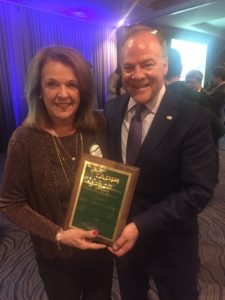 A lot of people wonder what it takes to receive a Division Award.  Certainly, a long track record of contribution to the Division and our industry is one of the keys.  However, the selection process is one of thorough peer review.
Nancy Plowman is the recipient of this year's Westrock Outstanding Educator Award.  This is an award that was started in 2013 to highlight the efforts of academic and industry participants in the education of our current and future membership.  We know that teaching is a largely selfless act but one that nonetheless gratifies both student and teacher.
Nancy's energy and enthusiasm to teach people the finer points of print processes, raw materials, and problem solving is apparent to anyone who's ever heard her speak.  I asked her for some highlights of her favorite teaching experiences.  Her answer was that they all are; that every teaching experience allows her a little different opportunity to connect with students and to hear their perspectives.  She told me that the opportunity to work with wonderful professionals throughout this industry has made her job as an educator both easy and enjoyable.
So, what has she done to earn this honor?  Here are just a few things:
She has 48 years in our industry (I know, looking at her, I don't believe it, either); during which she's collected a lifetime of experience. She's been a TAPPI member for nearly 30 years, has participated in the TPC and the Division leadership.
During that time she's been responsible for either teaching or planning educational sessions for

NPA
TAPPI
GATF
RIT
RPTA

She's a 7-time designate by TAPPI as an "Excellent Instructor."
Knowing that teaching is more than just classroom, she's also written countless problem solving and tutorial articles for:

Converting Magazine
Graphic Arts Monthly
Thank you, Nancy, for your years of dedicated service to our industry!