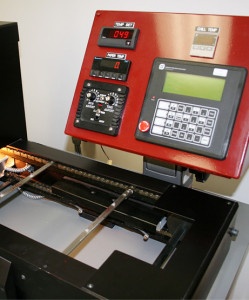 The Heat Set Tester is a laboratory machine designed to dry web offset inks. The machine offers many unique features.
Test prints made on the Test Press are placed on the Heat Set Tester and transported through an oven equipped with high intensity infrared heaters. The paper surface temperature is monitored with an in-line IR sensor. Transport speed and heat intensity can be adjusted to closely simulate web press conditions.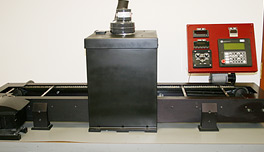 The Heat Set Tester is the best machine to use when you need to evaluate the blister resistance and ink gloss capabilities of papers.
Computer controlled speed
4 controllable quartz heaters
Paper surface temperatures from ambient to >400oF
8 programmable pre-set speeds for testing different basis weights or different exit temperatures
Transporter pin system easily accommodates coated lightweight papers up to high caliper boards
Digital paper exit temperature display
Chiller capable of achieving 45oF from an ambient 75oF