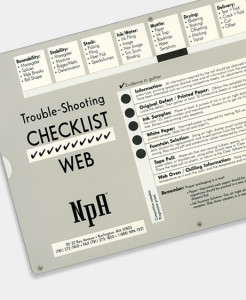 Developed in the early 1990's, the slide chart NPA introduced to the industry is a very helpful tool for proper collection of raw materials in the case a printer runs into a printing complaint. Many times pressmen are not always aware of what samples he/she should collect in case of a problem that arises on press. This simple to use chart makes collecting raw materials easy for documenting complaints!
This troubleshooting checklist covers all printing problems:
Runnability
Stability
Stock issues
Ink/Water Balance
Mottle
Drying
Delivery
Plate/Blankets
Coating Issues
This chart tells the pressmen how much material is needed for testing, including how to properly collect paper and ink samples. How much fountain solution should be collected; mixed and concentrate. Tape pulls if needed. How many printed signatures or sheets with the defect should be collected, even how to properly package these materials for shipping.
These charts can be ordered with the NPA Print Analysis Kit or separately. If you have questions about this product or would like to place an order, feel free to contact Nate Plowman. (Quantity discounts available)
Email Nate Plowman